Follow these steps to set up the prizes of your raffle.
In your raffle dashboard, go to the navigation pane on the left side of your screen. Under Setup, select Prizes.
To add a new prize, follow the steps below:
Prize Type: Choose the type of prize up for grabs. Available prize types include:
50/50: Prize value is half of total sales (only one per raffle is permitted)
Cash: Fixed cash amount (e.g. $10,000 cash prize)
Prize: A non-cash prize (e.g. Cars, Trips, Baskets)
Name: Give the raffle prize a name.
Value: Enter an approximate value of the item.
Early Bird Prize: Check this box if you have additional prizes to give away in addition to your raffle's primary prize. Early bird winners will be drawn before the non-early-bird prize.
Sales End Date: Set a sales cutoff day for the specific prize.
Sales End Time: Set a sales cutoff time for the specific prize.
Draw Date: Set a day when the prize will be drawn.
Draw Time: Set a time when the prize will be drawn.
Add Prize Image: Upload a image so that guests can preview the prize. Click Browse Files to upload an image from your device.
Description: Add details about the prize so that guests know exactly what they are being entered in for.
A preview of your prize will appear on the right side of your screen. If that looks good, navigate to the bottom and click Save.
IMPORTANT: Keep in mind that you can only add or edit prizes while the raffle is in Draft mode. Once your raffle is live, no new prizes, or changes to existing prizes can be made.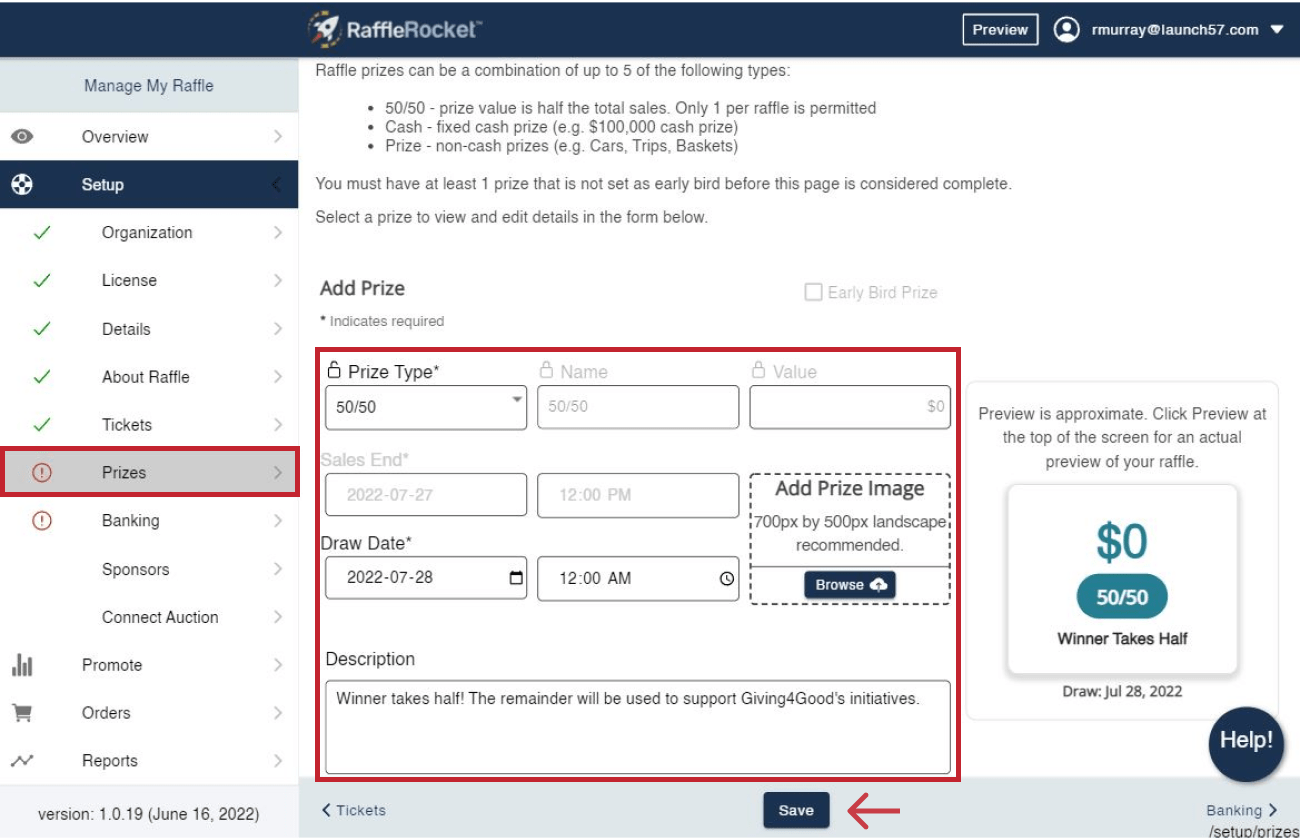 When adding Non-Cash prizes, please ensure that each prize abides by Stripe's Services Agreement – Prohibited and Restricted Businesses. If any of your prizes fall under the list of prohibited or restricted businesses, Stripe may restrict and close your Stripe account.